Technology/Digital Networks
Having Tech Problems?
To report a problem with technology, please send an email to: tech@lacenterschools.org
Technology Resources
"Providing useful and appropriate tools for the benefit of our students."
La Center Schools has a telecommunications network that provides data, video, and telephone access to every classroom. With this system in place, we encourage you to contact the school at any time either through email or by phone 24 hours a day. All our staff have both voice mail and email addresses that are checked regularly. Please don't hesitate to contact any school staff member if you have questions, concerns or suggestions.
The computer network provides access to the Internet, printers, file servers, email and other network resources using copper wire, fiber optic cabling, and wireless connections. The standard minimum configuration for equipment in the classroom includes a television and media player, telephone, computer, multimedia projector, document camera (for showing papers and instructional materials on the projection screen) and printer. Most rooms exceed these minimum standards and may also have such items as scanners, digital cameras, laptops, interactive whiteboards (AKA Smartboards), iPads, Chromebooks, and more.
It is with great pride that we are able to provide these various technologies and hope you find that these services make it simpler than ever to obtain information that students, families and staff can use to create better learning environments and help improve student success.
Dan Bentson, Director of Technology
Email: Dan.bentson@lacenterschools.org (Quick Link)
The Technology staff includes Dan Bentson, Brian Mangus, Joel Shaw and Bill Hrdina.
TECH TIP: If the Distrcit webpage looks like the picture below when it loads, simply hit the refresh button on your browser and the page will load properly.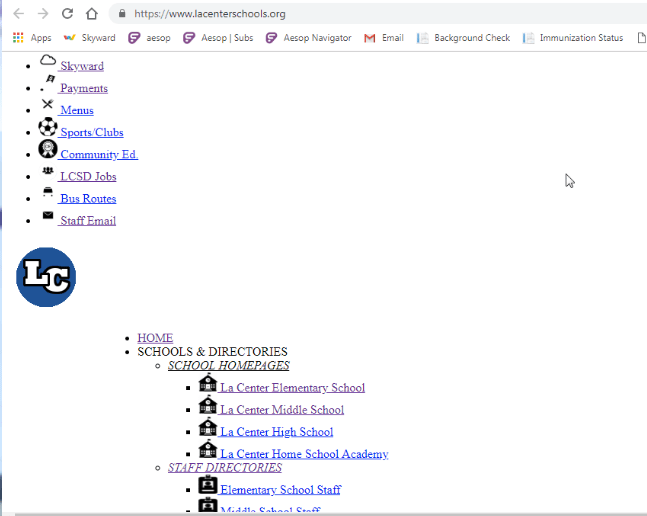 Dan Bentson
dan.bentson@lacenterschools.org
Joel Shaw
joel.shaw@lacenterschools.org
Nicole Andrell
nicole.andrell@lacenterschools.org
Kelly Sullivan
kelly.sullivan@lacenterschools.org