Skyward & Payments Page Help
Usernames
To obtain your user name and password, please contact the office of the school that your child attends.  
The best way to login to both Skyward and/or Payment sections of the website is with your own personal Family Access login (do not login as your student to access parental features).
The format for your username is generally the same as explained below, but not always (if someone else on the system has the same first and last name, the 3 zeroes at the end will not be correct).
Use the first 5 letters of your last name, the first 3 letters of your first name and three 0's at the end (the number 0, not the letter).
For example: Bill Howley is convereted to howlebil000
If your last name is fewer than 5 letters, enter spaces for the remaining spots.
For example: If your name is Joe Hut your username is hut joe000 (2 spaces between hut and joe). If your name is Joe Hutt your username is hutt joe000 (1 space).
In the case of Skyward or Touchbase, choose the areas highlighted below to reset your password.  The reset information will go to the email the District has on file for your username.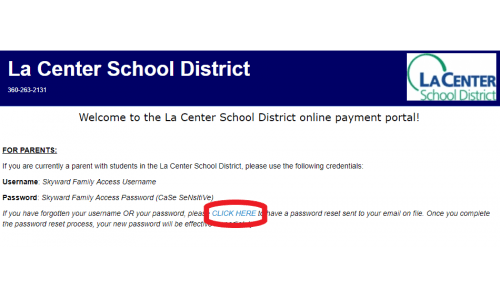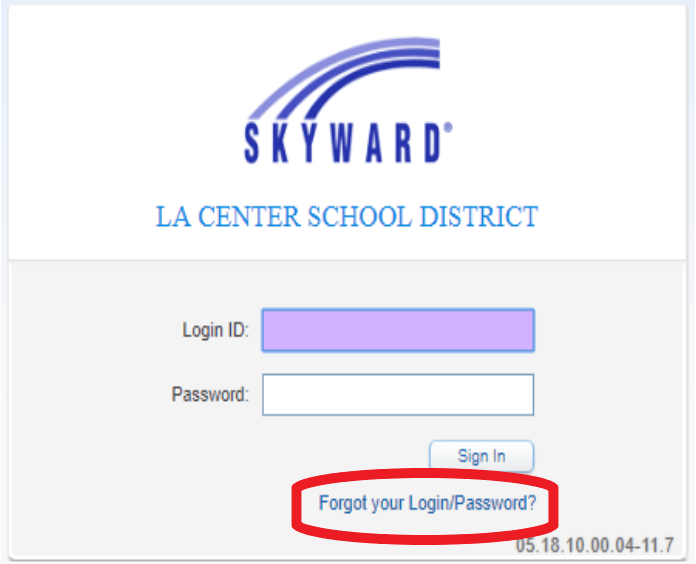 The difference between these two systems won't matter to you most of the time, but it's helpful to be able to identify one from the other if you run into any problems.  
Skyward Family Access
Skyward Family Access is where you go to check your student's grades, attendance, schedule, test scores, etc.  You can also learn about what your student is buying at lunch.  Please note: The food service balance shown in Skyward Family Access is usually about 24 hours behind reality.
Your students also have a Skyward account.  What you see when you login as a student is different from what you see when you login as a parent.   
Payments (InTouch & Touchbase)
InTouch & Touchbase are the owned by the same company and represent 2 different payment methods.  InTouch is what we use when you pay money in a school office (whether by credit card, check or cash).  When you click on the payments tab at the top of every district webpage, you're using Touchbase.