Every years Kathy Bounds starts her AP Government Class with a scholarship speech contest: The Veterans of Foreign War's Voice of Democracy. Students are to write a 3-5 minute speech on a patriotic topic. This year's topic was "My Responsibility to America." Speeches are recorded on DVD and sent to local posts. Kathy has worked with Debbie Kreiger of the Yacolt Post for the past seven years.
Usually La Center is the only school to participate. This year we had competition from two other schools. There were so many applicants, the post broke them down into two separate pools.  La Center ended up with 3 winners that were announced at the most recent School Board Meeting:
First Place:
Dayton Erickson and Bethany Seppanen both won a plaque and $100
Second Place:
Sheila Wing won a plaque and $75.
Both Dayton and Bethany's speeches are now in the running to be district winners. If they win districts they are in the state competition and if they win THAT they are into the national competition with a chance at a $30,000 scholarship.
Last year Dustin Dennis got all the way to second in state. He won a trip to Washington DC for a week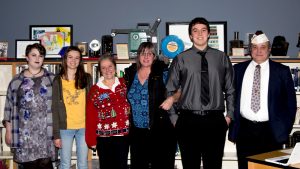 .