Congratulations to the La Center Softball Team- State 1A Champions!!!
After an incredible, undefeated run of 26-0 on the season, the La Center Wildcats clinched their first State Championship title Saturday afternoon after a nail-biter of a championship game!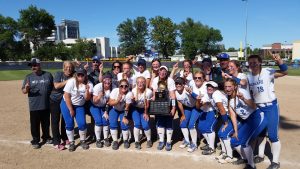 The Columbian had a wonderful pair of articles about the inspiring performances of our Wildcats, you'll find them reprinted below.
For a while, it looked too easy.
Then it was tough. Really, really tough.
It takes a lot to win a state championship, though. Including faith.
"We knew we were going to get it the whole time and bring the title home to La Center," senior Alicen Smith said.
Facing their first adversity — and deficit — of the tournament, the La Center softball team battled back to beat Montesano 9-7 to win the Class 1A state title Saturday afternoon at Columbia Playfield.
Smith's run-scoring single in the bottom of the sixth inning scored Kaylie Faul with the go-ahead run, and the La Center defense stopped the Bulldogs in the seventh to secure the program's first state championship.
Abby England, who was brilliant in the pitching circle in the first three games of the tournament — 36 strikeouts, two walks, no runs — endured a sore arm and some struggles in the title game. Still, she managed to strike out two in the seventh, including the final Montesano batter.
She was in tears after the game, thanking her teammates for having her back, thanking the seniors who will be leaving.
"They kept saying, 'We got you. We got you. We believe in you.' I'm going to miss those girls. I'm going to miss them a lot, their leadership. They were very reassuring they were there for me. It gave me confidence and strength to finish the game."
La Center beat Deer Park 13-0 in the semifinals Saturday morning. That was after 7-0 and 10-0 wins in the first two rounds Friday.
Those victories gave La Center a 26-0 record, but Montesano was not going to allow the Wildcats to cruise to an undefeated season and title. La Center coach Randy Martinez said he told the Montesano coach that it means more to La Center to beat the Bulldogs because the Bulldogs are "the bar for 1A softball."
The Bulldogs, in fact, twice had a chance to ruin La Center's perfect season. They led La Center in the sixth inning of the district tournament a week ago before the Wildcats rallied.
On this day, La Center's comeback came early.
Montesano had a five-run second inning to take a 5-2 lead.
Charlotte Royal got two back right away for the Wildcats with a two-run home run in the bottom of the frame.
"It was awesome. I didn't even know it until I was going to second," she said, unaware that the ball cleared the fence. "It was just crazy. Just to be able to do that, it's insane."
Montesano added a run in the third, but La Center scored three in the bottom of the frame to take a 7-6 lead.
Jessi Weaver had run-scoring singles in the first and third innings for La Center,
"For me to get an RBI, it takes someone else to be on the bases," Weaver said. "It take the team, not just me. I'm just glad I didn't let anyone down."
The Wildcats got a run on an error and then Kaylie Faul's sacrifice fly put them up 7-6.
The Bulldogs tied it in the fifth inning, but left two runners in scoring position in the top of the sixth, setting the stage for La Center to take command.
Faul's single led off the inning. Royal sacrificed her to second, and Smith drove in Faul with a base hit. Smith would come home moments later on a single by Lilly Casey.
"The whole time leading up to that moment, I was in an adrenaline rush," Casey said. "As soon as I hit that, everything was completely different. Right then I knew we'd get the state championship."
England got a strikeout to open the seventh inning then walked a Bulldog. La Center shortstop Kayla Aguirre made a nice running catch into the outfield for the second out. Then England got her seventh strikeout of the game — 43rd of the tournament — to set up a celebration heard from Tri-Cities to Clark County.
"Fantastic feeling," Weaver said. "Never played on a team like this before."
"We all had so much faith in each other," Smith said. "We know that anybody can accomplish what is needed to be done."
Trailing by three runs. Trailing by two. Tied. Whatever.
"No matter who's up, we know were going to hit the run in," Smith said. "We left no double on the field."
Some tournament highlights:
Abby England 4-0, 24 IP, 43 strikeouts, no-hitter, perfect game, three shutouts. Also hit two home runs.
Alicen Smith 9-14, 9 runs scored
Megan Muffett 5-14, 1 HR, 8 RBI
Charlotte Royal 6-10, 1 HR, 3 RBI
Paige Stinson 6-13, 3 RBI
Jessi Weaver 6-12, 5 RBI
Lilly Casey 5-11, 4 RBI
State championship game
LA CENTER 9, MONTESANO 7
Pitcher — Samantha Stanfield 6 IP, loss, 5 Ks. Highlights — Josie Toyra 2-3; Stanfield 2-4; Annie Cristelli 1-3, HR, 3 RBI; Cheyann Bartlett 2-5, 2 RBI; Lindsay Pace 1-4, RBI; Kosie Cleompken 1-3, RBI; Alyssa Gustufson 1-4.
La Center
Pitcher — Abby England 7 IP, win, 7 Ks. Highlights — Lilly Casey 2-4, RBI; Paige Stinson 1-3, 2B, RBI; Jessi Weaver 2-3, 2 RBI; Kayla Aguirre 1-3; Charlotte Royal 1-2, HR, 2 RBI; Megan Muffett 1-4; Kaylie Faul 1-2, RBI; Alicen Smith 1-4, RBI.
Semifinal
LA CENTER 13, DEER PARK 0
La Center
Pitcher — Abby England 5 IP, win, 12 Ks. Highlights — Alicen Smith 2-4; Megan Muffett 1-3, 2 RBI; Jessi Weaver 2-3, 3B, RBI; Abby England 2-2, HR, 3B, 2 RBI; Kayla Aguirre 1-3, RBI; Paige Stinson 2-3, RBI; Kaylie Faul 2-3, 2B, 2 RBI; Charlotte Royal 1-3, RBI.
Here's a second article about the games leading up to the championship:
Abby England. Megan Muffett. Alicen Smith.
Those are the big names for La Center softball.
Yet, the Wildcats are going to the state championship game because they have so many players performing at a peak level.
England threw another gem and also hit a home run Saturday morning in the semifinals, but the Wildcats are getting hits from just about everyone, from anywhere in the lineup.
Kaylie Faul, eighth in the linuep, had two hits, including a two-run single that gave La Center the double-digit lead it needed to end the game early.
"It doesn't matter where you are in the lineup. Everybody matters. We all play a part," Faul said. "Doesn't matter if you're bunting or hitting a grand slam."
Charlotte Royal, ninth in the order, had a hit and drove in a run Saturday morning — plus she went 4 for 5 in Friday's two games.
"Everyone's playing for the team, not for themselves," Royal said.
That is how La Center has rolled into the state championship game of the Class 1A state softball tournament at Columbia Playfield.
The Wildcats had 13 hits in a 13-0 win over Deer Park in the semifinals. La Center won its Friday games 7-0 and then 10-0.
It will be an all-District 4 championship game at 2:30 p.m La Center will face the winner of the Montesano-Castle Rock game.
The only news pitching wise from Saturday morning was England actually gave up a hit — three, in fact — after throwing a no-hitter and a perfect game on Friday.
The competitive phase of the Deer Park game did not last long, though.
England struck out the side in order in the top of the first, then La Center scored four in the bottom of the first. Muffett, Jessi Weaver, England, and Kayla Aguirre each drove in a run.
Game over.
Paige Stinson got a hit to drive in another run in a two-run second inning. England blasted a home run in the third. Then La Center scored six in the fourth, including a two-run single from Faul.
"Once everyone gets going, it's just positive energy and it rubs off," Faul said. "I don't know how to explain it really. Just an awesome feeling."
LA CENTER 13, DEER PARK 0
La Center
Pitcher — Abby England 5 IP, win, 12 Ks.
Highlights — Alicen Smith 2-4; Megan Muffett 1-3, 2 RBI; Jessi Weaver 2-3, 3B, RBI; Abby England 2-2, HR, 3B, 2 RBI; Kayla Aguirre 1-3, RBI; Paige Stinson 2-3, RBI; Kaylie Faul 2-3, 2B, 2 RBI; Charlotte Royal 1-3, RBI.