LCHS Teams Compete at Imagine Tomorrow Competition
Three teams from La Center HS competed in the Imagine Tomorrow Competition at WSU-Pullman on Saturday, May 21st.  There were 141 teams from WA, OR, ID and MT.
Jim Neiman was the advisor for two teams this year. Team #52: (Diego Ablornoz, Mackenzie Braaten, Hayden Larkin, Angelina Liane and Emily Thurston) presented about how the greenhouses in the La Center Community Garden could be heated with biodiesel. Team #136: "Community Garden Biochar System" >Kourtney Edington, Cameron Murphy Taitum Sadlier and Lindsey Story) presented about putting a biochar system in the community garden to heat the greenhouses. Their presentation won the Honorable Mention Award. Each student will receive $100 and the school (or advisor's program)receives $500.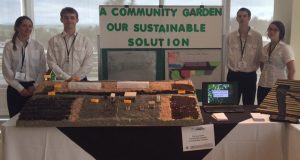 Rebecca Morris, the advisor for Team 48:  "The La Center Community Garden- A  Sustainable Solution" >Laurel Gibson, Hunter Hoover, Savannah Lowther and Kelly Woodside presented their work, and that of the Environmental Studies Class, to design a Community Garden that provides the ability to grow more locally-grown produce, use alternative forms of energy, decrease landfill waste  and serve as a demonstration garden for our community, as well as an outdoor classroom for the students of the La Center School District. Their presentation won the Community Impact Award. Each student of the team will receive $100 and the school (or advisor's program) receives $500.